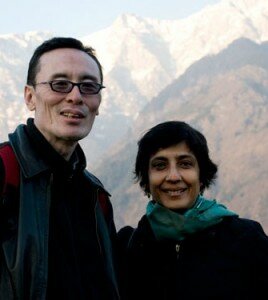 Welcome to our blog, which we will attempt to update regularly as we go on this journey with our film. This is our first blog post and we are writing it in Prague where we are attending the One World Human Rights Documentary Film Festival. Of course, the great news here is that our film has won the Vaclav Havel Award for its contribution to the protection of human rights. We were told by the festival organisers that Havel watches a shortlist of films and then chooses the final film himself. This award means a lot, not only to us but to the larger Tibetan cause. Havel is a great symbol of human rights and democracy and his support of the Tibet issue and friendship with the Dalai Lama is well-known. Hopefully, the award will send a message to Tibetans in Tibet that there is support for our cause and that their sacrifice has not been in vain. We will received the award from President Havel at the closing night ceremony on Thursday, the 18th.
Prague is as beautiful as everyone says it is but freezing cold! The festival, though, is warm and friendly, and we've already met a lot of filmmakers. We had a full house at our screening last evening and an intense q&a. What's interesting about the audiences here is that they are very young. There's a feeling of youthful energy and concern for larger issues that is very encouraging.
This morning, Tenzing did a live conversation on Czech TV with Igor Blažević, the founder of One World. Igor is a Serb who has lived in Prague for many years and was instrumental in setting up the NGO, People in Need of which One World is an offshoot. He is a dynamic and passionate man and the conversation was thoughtful and focused. They spoke about possible scenarios for a future when His Holiness the Dalai Lama is no longer there to lead the Tibetan people and also what could be done to prevent the Tibetan movement from disintegrating.
On another matter, we're thrilled to announce that The Sun Behind the Clouds will screen in the competition section of Films de Femmes in Creteil, France, on Tuesday April 6 at 17:00 hours and Saturday April 10 at 13:00 hours. Creteil, is in the suburbs of Paris. For more information: http://www.filmsdefemmes.com/?lang=en
Meanwhile, Tenzin Tsundue, who is helping us organise community screenings in India and Nepal, has been on the road and has had screenings in conjunction with Friends of Tibet, in Bangalore, Mumbai and Ahmedabad.